Difference between revisions of "SUPERPROTO"
Jump to navigation
Jump to search
---
Revision as of 03:42, 25 March 2018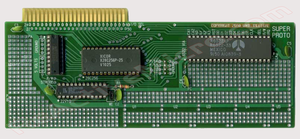 The SUPERPROTO v1.0 was designed by Mike Willegal. On March 18th, 2018 Mike made the production files public for the project. ReActiveMicro has remade the board, with permission, to help supply demand by the Apple II Community.

Project Status: Completed. In production. Actively sold by ReActiveMicro.
Support: Post on the Discussion page (link above), email ReActiveMicro Support, or visit Mike Willegal's Wiki for other support.
Sales: Visit the ReActiveMicro Store.
Kit Assembly[edit]
The parts included with your SUPERPROTO v1.0 kit and the PCB have basic labels. Those with intermediate knowledge should have little trouble assembling the kit from just these labels. The image of the SUPERPROTO v1.0 can also be used for reference or to help determine orientation.
450px
Projects[edit]
We will list or link to projects users design for the board as the become available. Please be sure to share your projects!