HERO Junior RT-1 Charger Adapter
Jump to navigation
Jump to search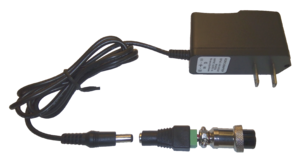 The HERO Junior RT-1 Charger Adapter is a Power Supply replacement to be installed by the end user. It was conceived, created, and designed by Henry of ReActiveMicro and released for sale on September 14th, 2016.

Project Status: Complete. In production. Actively sold by ReActiveMicro.
Support: Post on the Discussion page (link above) or email ReActiveMicro Support.
Sales: Visit the ReActiveMicro Store.
Features Of The Charger Adapter
The Charger Adapter replaces the old HERO Junior RT-1 AC Power Supply with a new, modern solution for Robot.
The main advantage of the Adapter is it utilizes a standard 5.5mm (2.1 x 5.5mm) plug for the DC connections. This allows a standard Universal AC to DC Regulated Power Supply to be used unlike the original design.
The AC to DC Power Supply included with the Charger Adapter is 12v at 1 Amp. It accepts universal AC input voltages and frequencies so it can work both domestically and internationally. The 1 Amp rating also means the unit will operate cool and be under less stress which should allow long life.
History
Mike Maginnis from Open Apple Podcast contacted Henry on August 8th, 2016 about possibly creating a new charger for his HERO Junior RT-1 robot. Operational chargers are hard to find and no other options existed. So Henry had an idea and went to work to design a replacement charger.
Review
On September 8th, 2016 Mike Maginnis recorded a test of the HERO Junior RT-1 Charger Adapter connected to his Robot. The Robot is fully powered and operational.
Pinouts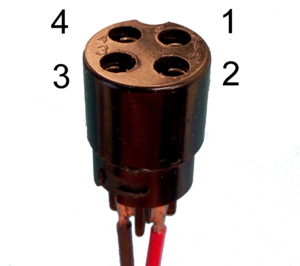 The 4-Pin Screw-Lock connector has numbers on the mating face (see pic). With the "Key" or "Notch" facing up and the mating face toward you the pinout is:
Top Left: Pin 4
Top Right: Pin 1
Bottom Left: Pin 3
Bottom Right: Pin 2

Pins 1 and 4 TOP are connected together. This tells the Robot that the Charger Adapter is connected. Without this jumper the Robot can move around and possibly disconnect the Charger Adapter. Pin 3 is DC Negative: Bottom LEFT as looking in to the FACE of the connector. Pin 2 is DC Positive: Bottom RIGHT as looking in to the FACE of the connector.
The 5.5mm (2.1 x 5.5mm) DC Connector has DC Positive in the CENTER and DC Negative on the RING or outer connector.